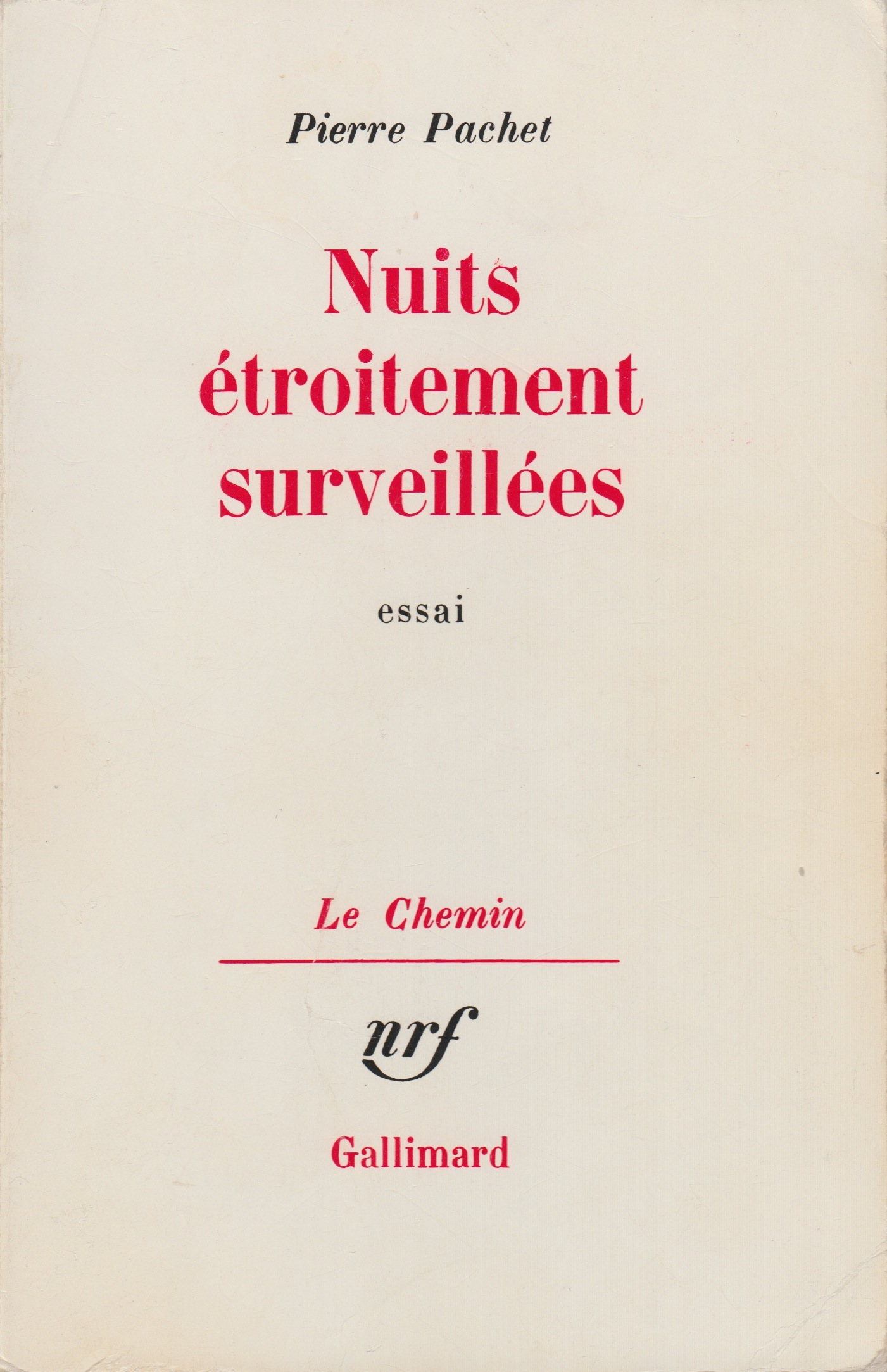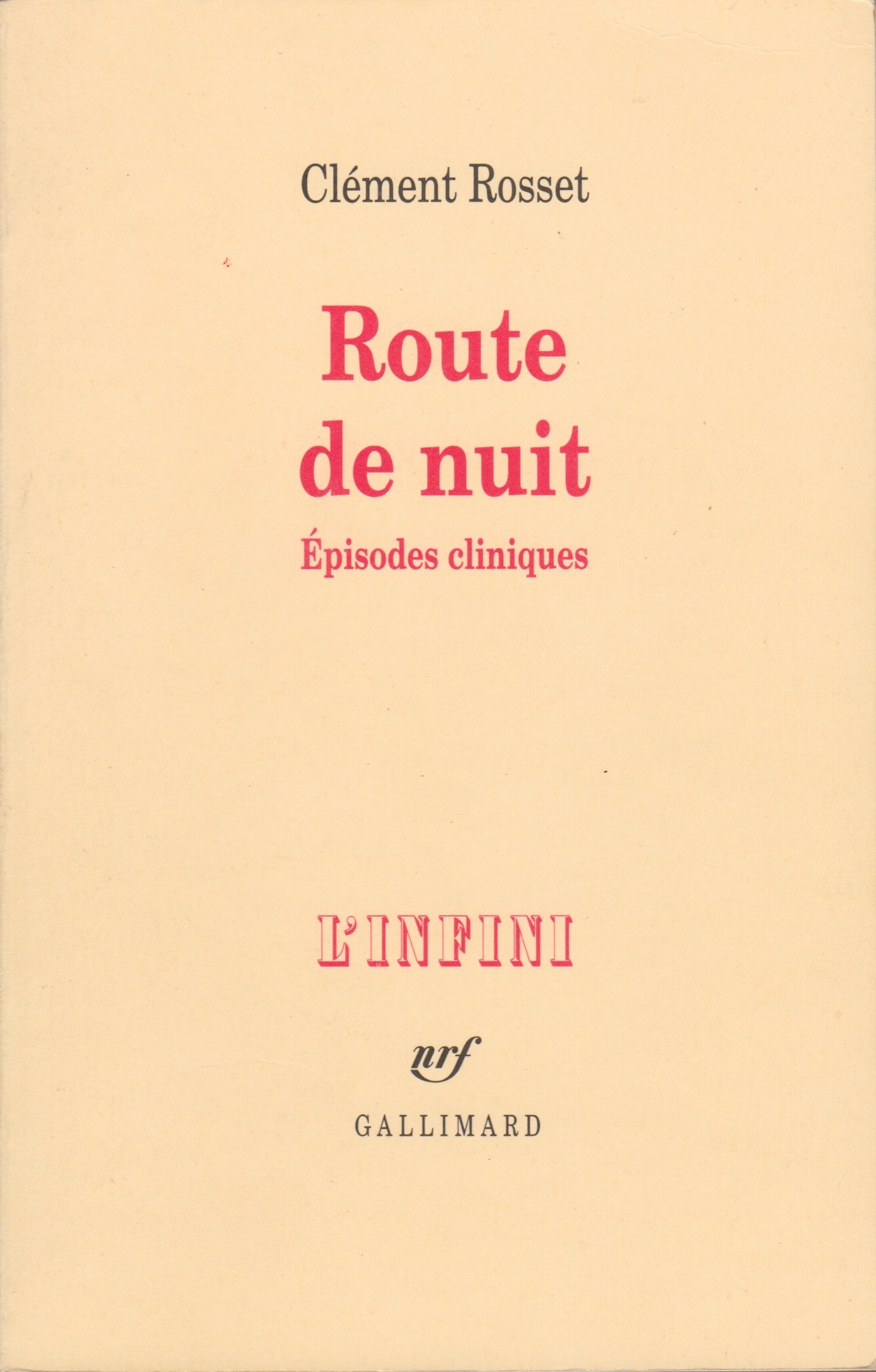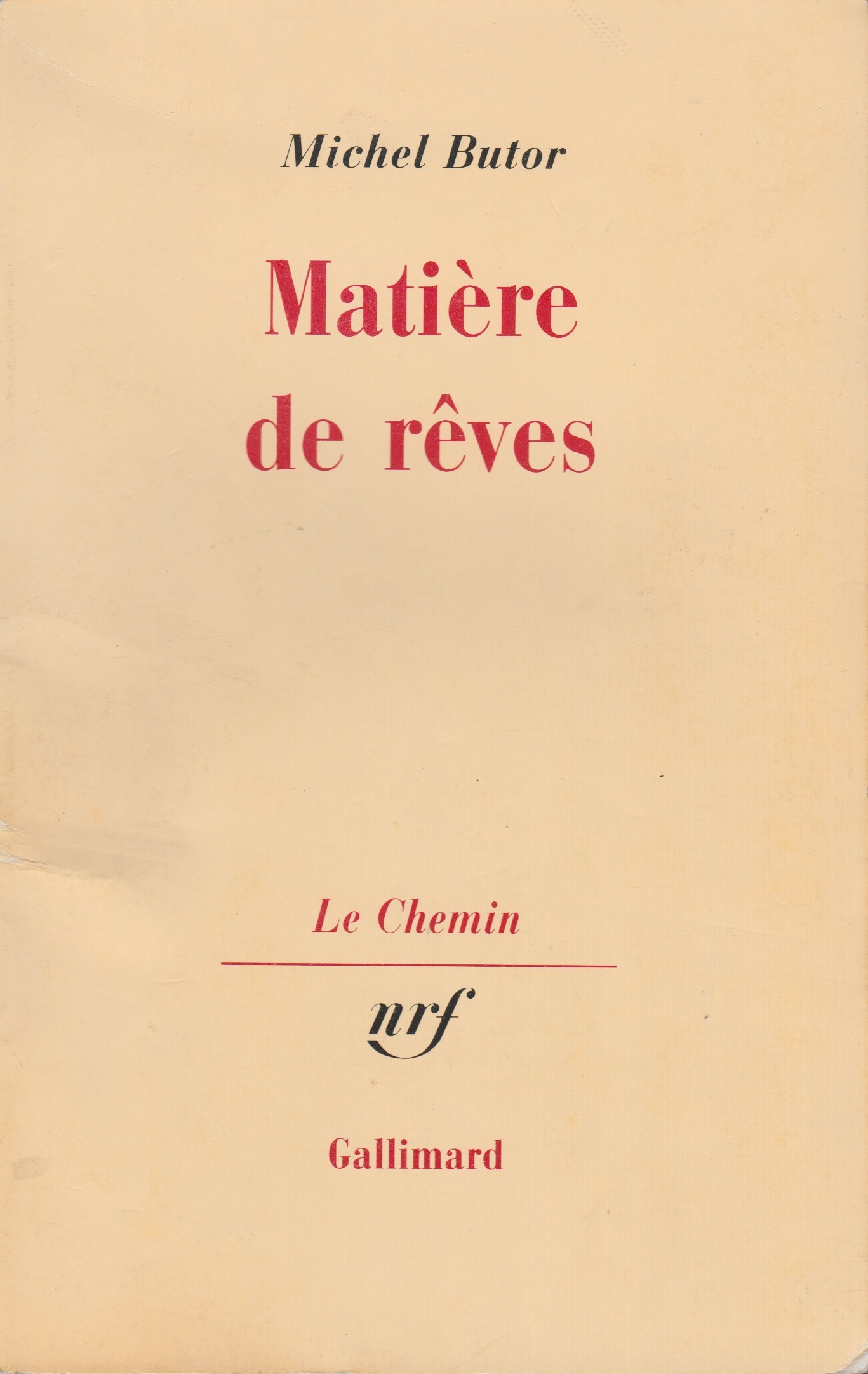 With
Michel Butor . . . . . . . . . . . . . . . . Francion's Dream
Clément Rosset . . . . . . . . . . . . . . . . . . . . . . . Hasofin
Pierre Pachet . . . . . . . . . . . . . . Towards Deep Sleep
Jean-Luc Nancy . . . . . . . . . . . . . . The Sleeping Self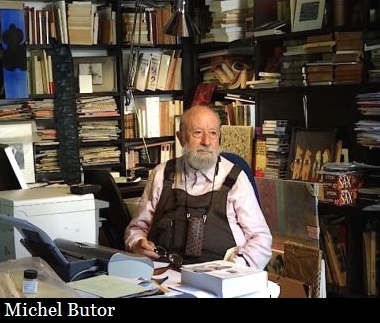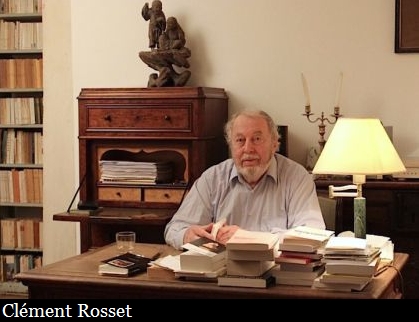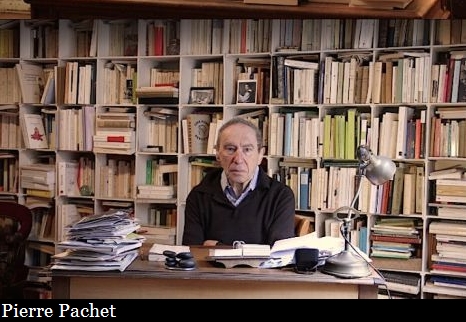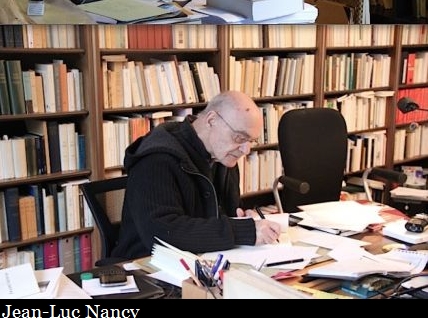 Part I: Francion's Dream
Part II: Hasofin
Part III: Towards Deep Sleep
Part IV: The Sleeping Self
DVD Deep into Sleep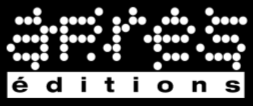 Two films and two interviews,
a.p.r.e.s Editions, 2016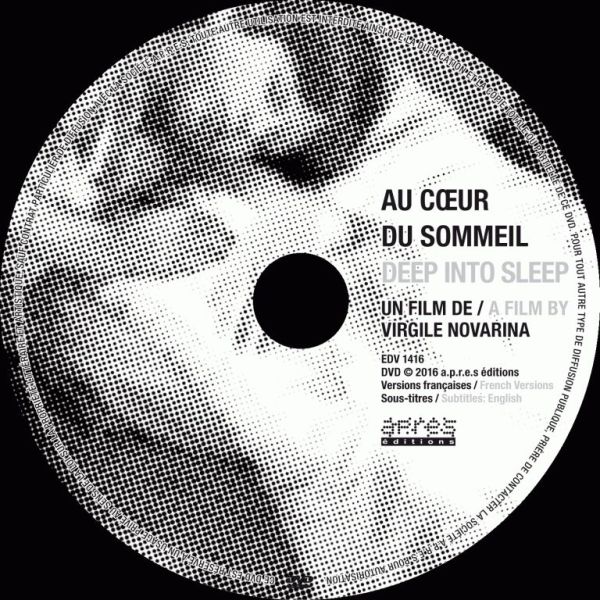 Duration : 85'
Langage : French with english subtitles
More informations, orders
Price : 20 euros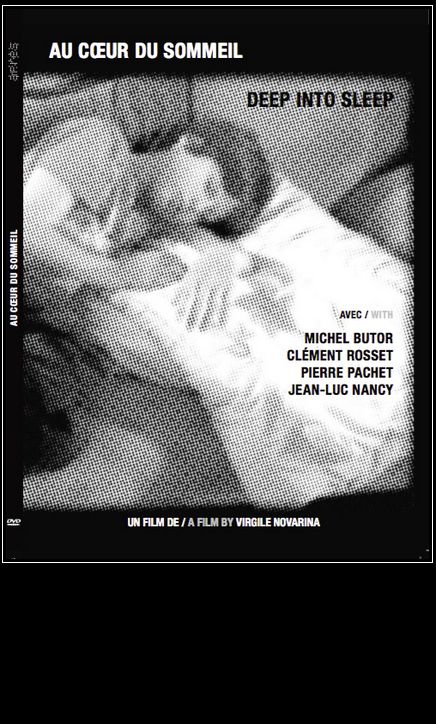 Deep into Sleep (39', Virgile Novarina, 2016) "A literary and philosophic exploration of the various stages of sleep, with Michel Butor, Clément Rosset, Pierre Pachet and Jean-Luc Nancy."
Around Sleep, (12', Virgile Novarina, 2005) Around Sleep is built like a wildlife documentary focused on sleepers. It tells the story of a day, from morning to night. The only characters are sleepers and yawners who were filmed in public transports or places as well as in private surroundings. The film is divided into four parts: The Morning, The Train, The Yawn and The Evening. It contains seven quasi-subliminal images (1/12 to 1/24 of a second), which are generally perceived by the audience.
First interview : Michel Butor, the Dream int the Writing (18', Virgile Novarina, 2016). Michel Butor looks at his entire work through the prism of dreaming: the dreams of the characters in his novels, his book « Matière de rêve » and his poetry like a waking dream.
Second interview : The Strength to Sleep (14', Virgile Novarina, 2016). Pierre Pachet looks back at two of his books: « Nuits écroitements surveillées » and « La Force de dormir ». He describes how his interest in sleep led his desire to write.
Extracts of the two interviews
Screenings
| | | |
| --- | --- | --- |
| 2016 | Guadalajara, Mexique | The first edition of the FIC AUTOR (Author's International Film Festival) took place from November 10 to 17, 2016 in Guadalajara, Jalisco, México, in Cineforo Universidad. Plus d'infos : http://www.ficautor.com |
| 2016 | Lakkasandra, Inde | The Access Code Short Film Festival is a festival with specific goal of supporting and promoting photography and fresh filmmaking talent. It is a festival where films from a wide spectrum intersect. Lakkasandra, Bangalore, Karnataka 560030. Plus d'infos : http://accesscodesff.blogspot.fr |
| 2016 | Timisoara | The Festival Short to the Point (STTP) is an international network of distribution, broadcast and promotion of short films. STTP offers professionals and amateurs the opportunity to see their short films projected in unconventional cinemas across Romania and Germany. Plus d'infos : http://spunepescurt.ro |
| 2016 | Lucinges | Fête du livre, en hommage à Michel Butor, Association Livres d'Artiste 74 Michel Butor, plus d'infos : http://www.lucinges.fr/events/fete-du-livre-dartiste |
| 2016 | Barcelone | Barcelona Planet Film Festival, plus d'infos : http://barcelonaplanetfilmfestival.weebly.com |
| 2016 | Ludhiana, Inde | Lake View International Film Festival, Punjab Bhawan. Plus d'infos : http://www.lviff.net/september-2016 |
| 2016 | Nieuwmoer, Belgique | Festzaal « De Schuur », Moving Pictures Festival Nieuwmoer (Kalmthout), vendredi 26 août à 20h, entrée libre. Plus d'infos : http://movingpicturesfestival.be |
| 2016 | Paris | La SCAM, 6 avenue Vélasquez, projection de « Virgile dort, 6 esquisses pour un film » (22', Jean Seban, 2013) et de la version définitive du film Au cœur du sommeil, en présence de Michel Butor, Pierre Pachet, Clément Rosset et Jean Seban. Plus d'infos : http://www.scam.fr/detail/ArticleId/3982/Au-coeur-du-sommeil et http://www.jeanseban.fr/JS/Virgile_Dort_1.html |
| 2015 | Avallon | La Tannerie 89, samedi 2 mai 2015, projection d'une version provisoire dans le cadre de la résidence d'artiste de Virgile Novarina pour le projet de Bulle Paradoxale. Plus d'infos : http://www.tannerie89.fr et un article http://www.valleeducousin.fr/spip.php?article264 |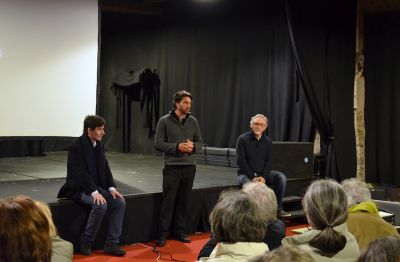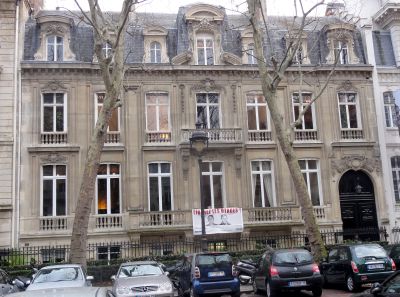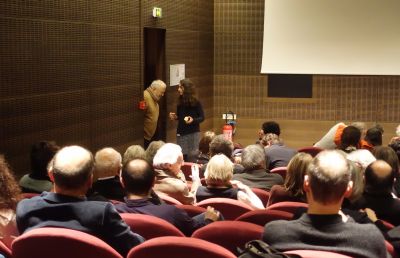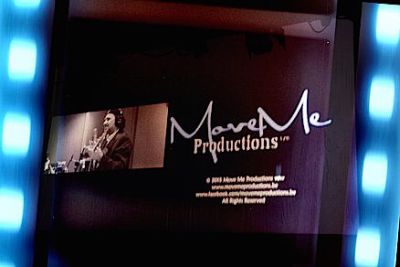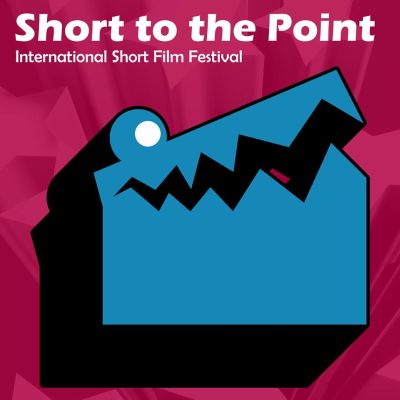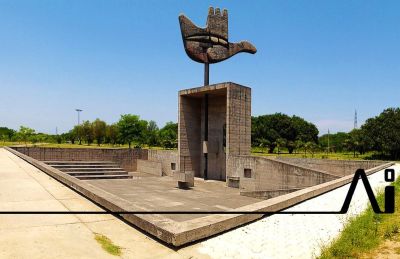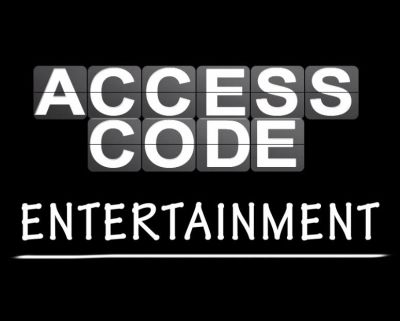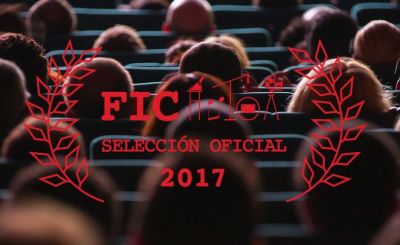 By the same director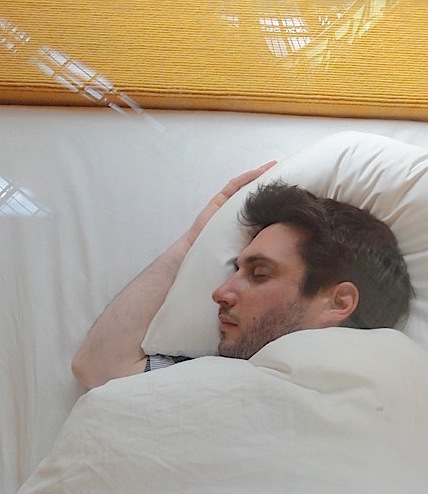 After studying Mathematics and Physics, Virgile Novarina (born in 1976) devoted himself to the artistic exploration of his own sleep through writings and drawings, and the sleep of others through photographs and videos. He has published eight books of "Ecrits et dessins de nuit" (Night's Writings and Drawings) and has exhibited his work in France, Germany, Portugal, in Spain, in Polen and the United States. Since 2006 the very act of sleeping has become an integral part of his work, through the "En Somme" (French language pun, meaning "all in all" or "sleep in progress") series of performances, during which he sleeps publicly in shop windows, galleries or museums.
In 2002 Virgile Novarina befriended Jean-Olivier Hucleux, whom he regularly filmed from 2005 to 2009. "Jean Olivier Hucleux, du travail à l'oeuvre" (from the work to the artwork) is his first documentary. Previously he made "Autour du sommeil" (Around sleep 2004, 12 min.), a short film unfolding on the course of one day whose only characters are sleepers and yawners.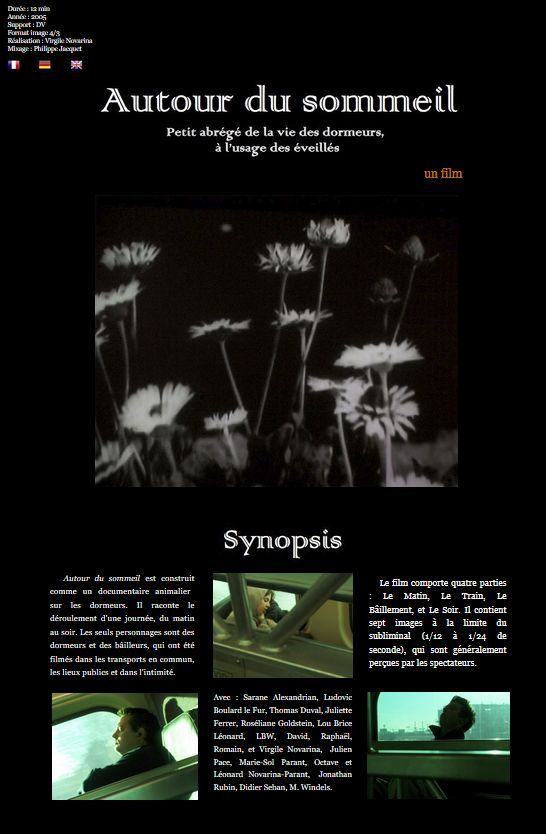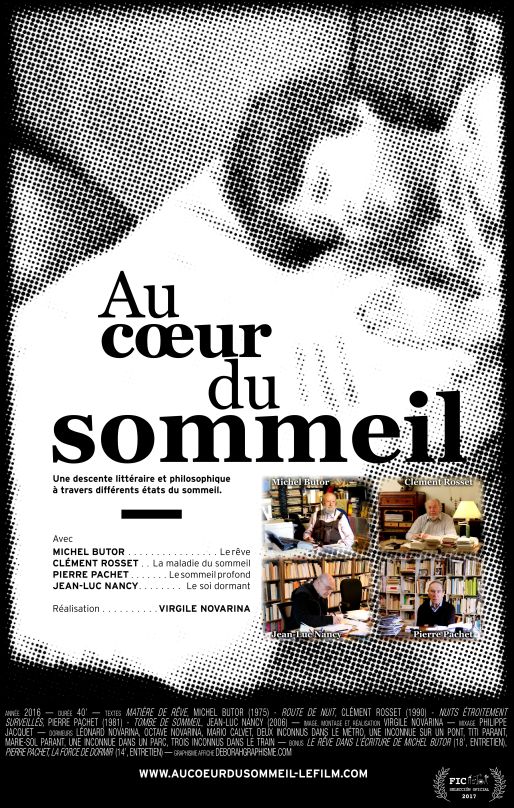 www.autourdusommeil-lefilm.com
www.hucleux-lefilm.com